Wedding Photography from $1,495
Fun Photo Booth Rentals from $575
Capture Memories with Family Portraits
We Provide Photo Restoration Services
Need Professional Looking Headshots?
Senior Portraits with Less Restrictions
Littleton Photography Studio
Mountain View Photo is located in Littleton, Colorado.  Our studio is eight miles south of Denver, Colorado.  We provide professional and affordable Wedding Photography, High School Senior Portraits, Business Headshots, Family Portraits, Event Photography, Photo Booth Rentals and Photo Restoration services.
Tim Mosholder founded Mountain View Photo in 2002.  With over 25 years of experience, he continues to be passionate for wedding and portrait photography.  His love for wedding photography is apparent when looking through his award-winning portfolio.
Our photography studio has photographed more than 350 weddings.  Our wedding photography style is a combination of posed formals as well as photo-journalistic.  Our affordable pricing and quality of work combine to give our clients one of the best deals in Denver, Colorado.
Our goal is to satisfy every customer so they continue to use our services throughout the years.  There's no better compliment than repeat business.  Thanks for trusting us to capture your most memorable moments.
Our above featured photography is from assignments that we've captured in the Colorado area throughout the year.  These featured images will continue to change from time to time.  Visit our photo galleries to see more samples of our work.  Our photography services include: High School Senior Pictures, Wedding Photography, Family Portraits, Company Headshots, Photo Booth Rentals, Event Photography and Photo Restoration Services.
Don't sacrifice your precious moments with an inexperienced photographer, just to save a few dollars.  Our photographic team has many years of experience and training. We have knowledge of lighting, depth-of-field, composition, and the art of posing.  Let our photographers capture your most important moments in life!
Our vision is to capture life's precious moments to be passed on to future generations as timeless memories.  We strive to anticipate the perfect shot, capture it and transform memories onto canvas to adore them forever.  We delight our customers by helping them see that sometimes they will never know the true value of a moment until it becomes a captured memory.  Our goal is to satisfy every customer so they continue to use our services as long as we are in business.  Photography is our passion!
Contact us ASAP to setup an appointment. Our wedding photography calendar is filling up quickly.
Denver Photography Services
Is your family changing too quickly? Let us capture the present day with a fun family portrait session. We offer studio and outdoor sessions at affordable…
Searching for award-winning wedding photography in the Denver area? Let our studio capture every moment of your special day. We have been…
Do you need amazing senior pictures in the Denver, Colorado area? Let us create a variety of poses with fewer restrictions than other studios. Choose six…
A professional headshot is a vital element in marketing yourself or your business for business cards, websites, press releases, publications or…
Do you want to entertain and give party favors to your guests without breaking the bank? Rent our Photo Booth for hours of entertainment and…
Our studio offers photo restoration services at affordable rates. Our photo restoration artists can repair stained, spotted, torn, cracked, bleached…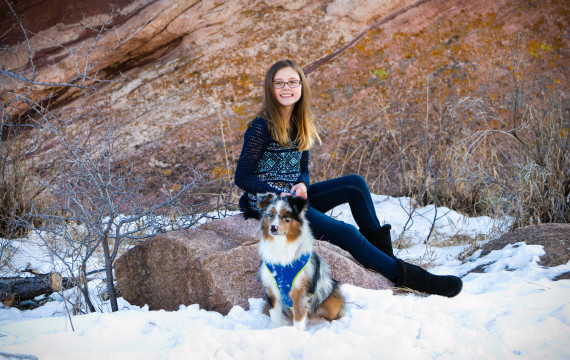 On December 23, 2015, I had the pleasure of photographing LeRae's twelve-year-old daughter and their one-year-old Aussie pup. The session took place at Red Rocks…